Companies and individuals are all too familiar with ways to help the community when a natural disaster strikes, but what about a global pandemic like COVID-19, otherwise known as the coronavirus? The situation remains fluid but here's what we know right now: workplace giving is a singular way to help in times like this when social distancing keeps us apart, an EAF helps you care for staff, and nonprofits all across America are playing a vital role in addressing and mitigating the impact the coronavirus is having on our nation and the world around us.
We've rounded up resources and ways you can help. We will update this page as new information comes to light, and as new needs emerge.
(1) Hold a coronavirus response campaign through your workplace:
This is an easy way for employees to support reputable nonprofits' organized efforts to support people affected by COVID-19, and there are multiple payment methods your team can utilize (i.e. one-time payroll deduction, credit card, PayPal) to ensure employee donations are made securely and efficiently. Click here to learn how you can make a difference while keeping your distance.
Employees can also support local or national nonprofits through the free YouGiveGoods platform which enables corporations to create customized online drives to raise most-needed new goods for charities (corporate/foundation match programs can be incorporated.) Email CustomerSupport@yougivegoods.com for more information.  
If your team is interested in setting up an employee giving campaign, click here to contact our team about getting started. 
Current clients of America's Charities who already have an employee giving program infrastructure in place: 
Please reach out to your primary America's Charities Account Manager with questions or other feedback.
(2) Help Your Employees Cope with Hardships with an EAF:
The coronavirus is causing a lot of anxiety and forcing businesses and their employees to pivot away from 'business as usual.' Between childcare needs, access to affordable healthcare, and potential loss of income, your employees may be facing unexpected hardships. Your company can help address those hardships and also provide other employees a way to help their colleagues by starting an Employee Assistance Fund (EAF), also known as an Employee Relief Fund or an Employee Crisis Fund. Read our article, "Coronavirus Concerns? Show Your Workers You Care (You Really Care) in Three Steps, take these three things into consideration if you're setting up an EAF specifically for COVID-19, and click here to learn more about the benefits of an EAF and how it works.
(3) Donate to America's Charities Coronavirus Response Fund:
With one donation to this fund, you can simultaneously ensure individuals affected by the pandemic have access to food, while also helping governments around the world immediately respond to the pandemic and strengthen health systems for billions.
America's Charities has designed this fund so employers can quickly and easily use their workplace giving program to facilitate employee gifts supporting coronavirus response efforts. For individuals whose employers do not offer that capability, you can donate directly to our fund. Click here to contribute to our Coronavirus Response Fund. 
Learn more from our partners:
(4) Support America's Charities' Nonprofit Members: 
COVID-19 has been devastating to nonprofits. Demand for their programs and services surged just as fundraising galas and partner development conferences were canceled, strain their finances, capacity, and resources. The long-term impact on nonprofits' bottom-line will affect the capacity of many nonprofits to serve their constituents in the months, and possibly years, to come. In this article, we highlight many of the ways our members are responding and being impacted by the pandemic.
Below are links to those charities' profiles on our website. You can donate to any or all of these charities on those pages, or you can find more information - including each members' website - on their profiles to learn more about their coronavirus-related efforts. We will update this page as our member nonprofits reach out to us with news about their efforts and emerging needs.
Address hunger and basic needs:
Address health, safety, and accessibility needs for people and pets:
Address education programs for youth, the disabled, and underserved:
Nonprofits seeing a steep drop in donations of goods can keep this channel open by raising needed goods online with YouGiveGoods. Goods purchased for donation are shipped in bulk at the close of the event and are coordinated by a YouGiveGoods team member which is especially useful as hours of operation and volunteer availability fluctuate. Contact CustomerSupport@YouGiveGoods.com for more information.  
(5) Workplace Tips for Employers and Employees (courtesy of The U.S. Chamber of Commerce and the U.S. Chamber of Commerce Foundation):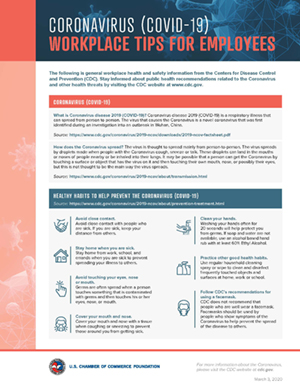 The U.S. Chamber of Commerce Foundation is closely monitoring the situation, and working with the Centers for Disease Control and Prevention (CDC) and other federal partners to understand the impact of this outbreak on the private sector and how companies should consider their response.
Click here for a host of tools and guidance they have put together for employers, and click here to access their Coronavirus Response Toolkit.
(6) Access the resources, tools, and discounts of America's Charities partners:
We have partnered with a host of businesses -- eSolidar, Golden, Marathon Strategies, Pear the Agency, and others -- each providing tools to businesses that are addressing the coronavirus. Most of the resources provided are free to America's Charities' stakeholders; others are deeply discounted. Visit our partner page for a list of partners and their offerings. 
Check out what our President and CEO Jim Starr had to say to our partner Marathon Strategies about the pandemic's impact on giving levels. This is the first episode of Marathon Strategies' new Word Off the Street series, where they chat with leaders to learn how companies and nonprofits are adapting to the coronavirus. Learn more: https://bit.ly/2zfQxQQ 
(7) Learn how businesses in the Washington, DC, area are responding to COVID-19
America's Charities joined the Washington Post BrandStudio's new online directory, "Doing Our Part, At Home," which lists the current status of D.C.-area businesses that have adapted to stay-at-home orders and social distancing guidelines due to the coronavirus pandemic. Click here to access the database. You can search for a specific business, such as "America's Charities," or filter by business type or geography.